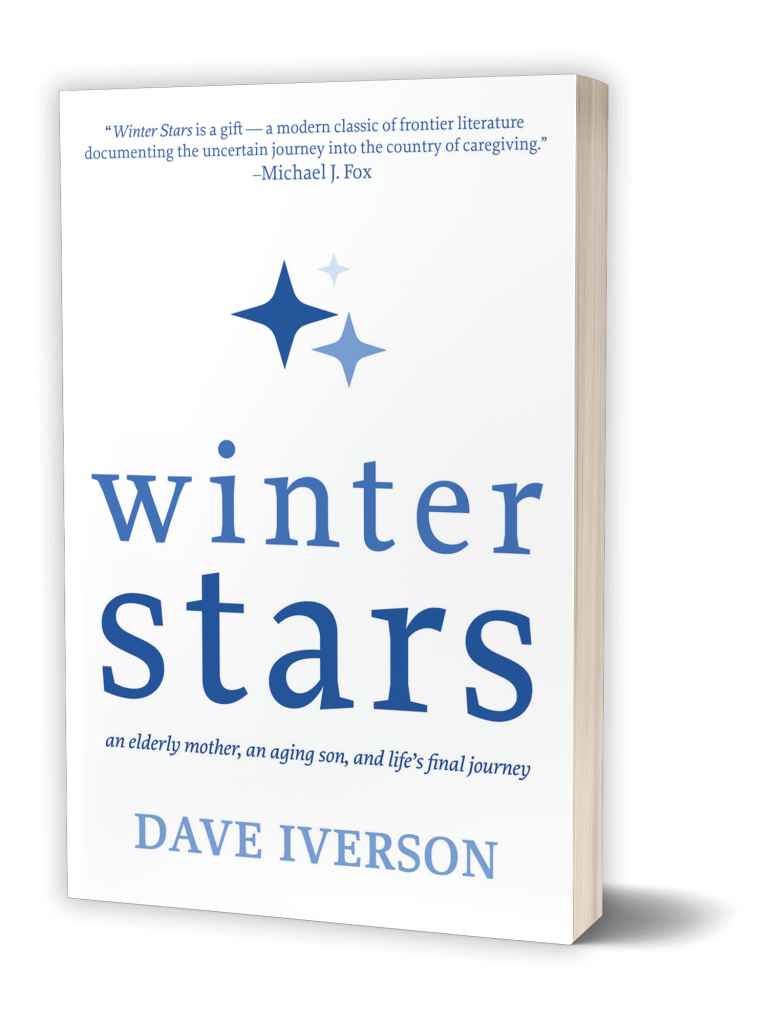 An elderly mother, an aging son and life's final journey
Dave Iverson was a broadcast journalist who'd recently been diagnosed with Parkinson's when he decided to do something he'd never quite imagined: He moved in to take care of his 95-year-old mom. Winter Stars is the story of their decade-long caregiving odyssey, which lasted until Adelaide Iverson's death at the age of 105. It's a book Michael J. Fox calls "a modern classic … documenting the uncertain journey into the country of caregiving and the deeply sustaining bonds of familial love."
Winter Stars is now available as an audio book! Narrated by Dave Iverson, it can be purchased on Amazon, Kobo, Apple Audio Books and Barnes and Noble.
All royalties from the sale of Winter Stars go to support Parkinson's and eldercare organizations.
Advance Praise for Winter Stars:
"Winter Stars is a gift — a modern classic of frontier literature documenting the uncertain journey into the country of caregiving. That Dave walked this path while himself living with neurological illness is remarkable, but his story will resonate with everyone who has grappled up close with a parent or loved one's end of life. Adelaide Iverson comes through on the page as vividly as she must have in life — this is a portrait that would do any mother proud. I'm grateful to Dave for sharing his fresh and honest take on sickness and health, mothers and sons, and the deeply sustaining bonds of familial love."
"This account of a loving son taking care of his mother in her final years is beautiful, moving, and so full of the spirit of the woman at its center that readers will feel they knew her. Dave Iverson has written the kind of memoir people will buy in quantity, to have on hand to give friends when they—and their parents—arrive at life's most difficult juncture. Honest, comforting, and true, Winter Stars is a testament to the power of family love."
"My former PBS colleague Dave Iverson, whom I have known as a gifted broadcaster and filmmaker, decided at age 59 to move in with and care for his equally determined 95 year-old mother, whose dementia was eroding her quick wit and intelligence. Winter Stars recounts Dave's care-giving odyssey, which, over ten years, broke open his heart. The resulting memoir is a love story you won't soon forget."
Read an excerpt from Winter Stars
Listen to an excerpt from Winter Stars